3D Printing Services
SLA and SLS Rapid Printing Services
Prototypes in 24-48 Hours
LT Century provides rapid SLA and SLS 3D printing services internationally creating prototypes in as little as 24-48 hours. 3D printing creates prototypes quickly, allowing you to touch, see, and test your design in physical form. 3D printed prototypes allow moving parts, colorization, and much more.
Using your design data, we print 3D prototypes using a wide variety of materials. In both SLA and SLS printing layers of material are continually added until the design has been completed, at which point many different finishing treatments are available to enhance, protect, and highlight your prototype.
Items made using SLA or SLS 3D printing technology may be enhanced with additional texturing, paint, other accents and even additional moving parts or inserts. Place a prototype in your hands fast using 3D printing services by LT Century.

3D Printing Services
We offer 2 options to serve your 3d printing needs: SLA and SLS. Your project needs will be the strongest determining factor which method is best for you.
SLA Printing
SLA printing is a 3D printing process using layers to create a complete and solid design. Using your CAD data (we can help with that too) your design is created using the material you have selected. Liquified, layered, and cured, materials are continually added until the design is complete, then cured. Prototypes made using the SLA rapid printing process are stationary replicas of your design built to specification.
SLA Printing Process
Ideas, concepts, and designs are converted to 3D CAD files
The design is divided into layers, made in succession using liquid resin
Each layer is traced from liquid resin, creating the design and curing the previous layer
This process continues until the 3D printed prototype is complete, and excess materials are removed
The prototype is cured, cleaned, and ready for finishing treatments
Benefits of SLA Printing
Variety of material and finishing options available
Precision creation of complicated designs
Produced in as little as 24 hours
SLS Printing
SLS printing is another form of 3D printing used to create functional prototypes which move and support the attachment or inclusion of additional parts and pieces. The SLS printing process creates layers separate from each other, then fuses them together using laser technology. 3D printed prototypes made using SLS printing can be ready to ship in as little as 24-48 hours.
SLS Rapid Prototyping
3D CAD designs are created and used to form materials into layers
A bottom layer is created to support building the design
Layers are added, fusing previous together layers with heat
Designs are cooled, cured, and cleaned
Finishing treatments may be applied and the prototype is ready to ship
Advantages of SLS Printing
Variety of materials, colors, and finishes
Accurate, moveable representations of your concept
Shipping as fast as 24-48 hours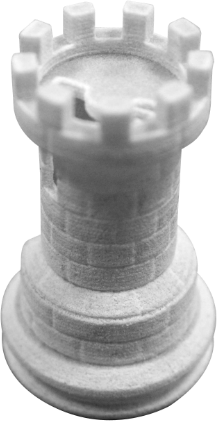 Get a Free Quote Now for 3D Printing
For a free quote on our 3D printing services contact LT Century today! We are ready to answer your questions and will provide a free 3D printing estimate within just 24-48 hours. 3D printed prototypes help visualize design, test function, explain concepts and much more. To find out how rapid prototyping using 3D printing can work for you, contact LT Century today.